AIR QUALITY
Industrial emission analysis solutions, for the monitoring of production plants,
process gases, emissions and ambient air.
DATA ACQUISITION AND HANDLING SYSTEM (DAHS) – OLICEM
OLICEM is a Danish company specialised in the reporting of emissions from incineration plants to meet the requirements of the European standards EN 14181 and EN 17255.
OLICEM's ReportLoq is the leading environmental Data Acquisition and Handling Software (DAHS) on the Danish market. It is extremely flexible and can be integrated with all types of analytical equipment for data retrieval and reporting.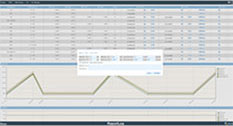 Incineration of solid or liquid waste, combustion plants with a total rated thermal input of 50 MW or more (wood chips, biomass or other fuel-fired power plants over 50 MW) and other incinerators.