AIR QUALITY
Industrial emission analysis solutions, for the monitoring of production plants,
process gases, emissions and ambient air.
DOAS TECHNIC – OPSIS
OPSIS analysers are systems for continuous monitoring of ambient air quality, industrial and process emissions.
thanks to the DOAS technology these high-tech systems allow high-precision measurements even under difficult conditions.
It has many advantages: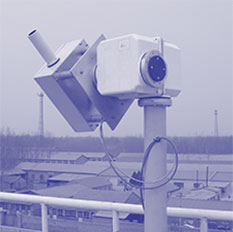 Measurements are based on the Differential Optical Absorption Spectroscopy : the DOAS technology. A xenon lamp projects light of a known spectrum through an optical path (open air, chimney or process pipe). The gas molecules within the beam absorb the light at their specific wavelengths. A receiver transmits this light to an analyser via an optical fibre. The spectrum of the light is extracted and analysed to deduce the relevant gas concentrations.