AIR QUALITY
Industrial emission analysis solutions, for the monitoring of production plants,
process gases, emissions and ambient air.
ANALYZERS – LSE MONITORS
LSE Monitors is a joint venture between two Dutch companies: SYNSPEC and Senso-Sense.
This union benefits from both Senso-Sense's expertise in photoacoustic analysis
and Synspec's mastery of the production of low concentration gas analysers.
Their common goal is to provide field analysers worldwide
to monitor gases that impact our environment.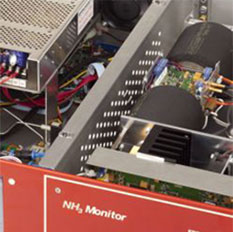 LSE MONITORS analysers can measure NH3 and N20 gases at concentrations in the ppb range. They can be used, among other things, for monitoring ambient air quality, industrial emissions monitoring and industrial process measurements.